Dear reader,
Greetings Beeks! This winter has been an unusual one, we would like to remind folks to take the opportunity and add some bee candy or dry sugar to their hives on a mild day if needed. Hives run the risk of starving this time of the year, especially with the unseasonably warm temperatures we have had up until this point. The warm temperatures keep the bees active, resulting in more food consumption. If you pop the lid and your bees are clustered at the very top or you gently lift the hive and it feels too light, add feed. Do not attempt to feed your bees any kind of liquid during this time of the year. With all of that said, we are looking forward to seeing all of you at our first monthly meeting of the new year which will be held on Monday, February 15th at 6:30 p.m. See you there!
If you've attended any of our classes or workshops, we would appreciate if you would kindly write a review on our website and share your experience.
Links to stay connected via Facebook, Twitter, and Google+ are located at the top of the newsletter, thank you for joining us!
If you have any topics, ideas, or questions, feel free to contact us at BeeGroup@HVHiives.com. Please whitelist our email address to ensure proper mail delivery from Hudson Valley Hives.


February 15th- 5 Frame Beekeeping
This month we will be discussing 5 frame beekeeping, or beekeeping with nucleus colonies in comparison to the many variations of hive sizes/styles available. We will talk about the possible benefits of encouraging the bees natural tendency to build their hives vertically and cut back on the horizontal space available to them. When we look at the narrow, but long vertical cavities of feral bee trees, we can't help to try and simulate that in our practices. For more on this topic, come join the discussion!
Questions, suggestions, and open discussion is always welcome!

Equipment Assembly Workshop
We are happy to offer this years equipment assembling workshop to be held on Saturday, March 26th 10 a.m.. Tips and tricks to help you assemble your woodenware will leave you with a complete setup, ready for painting and bees! There will be a $20 fee to cover materials. This workshop will offer use of air staplers, nails, glue, Bt ( wax moth prevention), carpenter's squares, and frame assembly jigs. Please bring a hammer, gloves and safety glasses if you have them. (We will have some safety glasses to share).
Please email us to request your order form. The deadline to place your order with full payment submitted will be February 15th.

One Day Intense Intro to Beekeeping Course
For those of you unable to attend January's courses, we are pleased to offer a condensed one day Intro course on March 5th, 2016 at the Morton Memorial Library at 22 Elm St, Pine Hill, NY 12465. The class will held from 10 a.m. until 3 p.m. and we encourage participants to bring a lunch with them. If you are interested in attending please preregister HERE!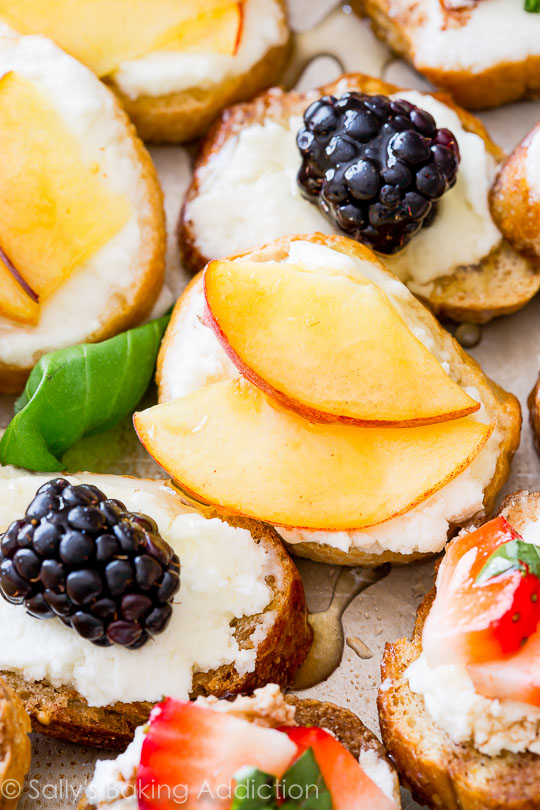 Recipe of the Month
A tried and true honey recipe that we've found to be quite delicious!
Goat Cheese, Honey & Fruit Crostini
Ingredients:
• 1 French baguette (18 inches), cut into 3/4-inch slices
• 8 ounces creamy goat cheese
• 2 Tablespoons honey, plus more for drizzling
• 1 cup sliced fruit (strawberries, blackberries, peaches)
Directions:
Preheat oven to 350°F (177°C). Place bread slices on a baking sheet. Bake 10 -12 minutes or until lightly toasted. (This is the ONLY cooking you'll do! Woohoo!)
Meanwhile, mix the goat cheese and honey together until relatively smooth. If it's a little crumbly, that's ok. Spread the goat cheese mixture on the toasted bread. Top with fruit.
Before serving, drizzle each crostini with honey. Keep leftovers covered tightly in the refrigerator for a couple days.
Make ahead tip: Prepare recipe through step 2, only do not top with fruit. Cover the goat cheese-topped bread slices tightly and store in the refrigerator for up to 1 day or for up to 8-10 hours at room temperature. Then top with fruit and honey. So, prep in the morning and finish in the evening! So easy.
http://sallysbakingaddiction.com/2015/06/24/easiest-appetizer-goat-cheese-honey-fruit-crostini/

2016 Nucs For Sale - May Pickup
We are pleased to be able to offer quality Northern Bred bees again this year. Five frame nucs with 4+ frames of brood and honey. These are not just a merger of brood frames with a newly mated queen. These are established colonies with brood from the queen you receive. Reserve your nuc on our website.

2016 Intro to Beekeeping
Our annual intro classes went great and we got to meet a lot of new people eager to get started this spring! It always amazes us at the amount of newcomers we get each year that are interested in keeping bees. We are pleased to support more beekeepers and bring more backyard hives to the Hudson Valley!
Best of the Beekeeping Forums
The beekeeping forums are not only good for getting help with your questions, but also to learn and think about things you haven't considered. Here are posts related to this months topic of discussion.
I hope this doesn't mean I could be in for trouble
Hudson Valley Hives is a beekeeping group that meets at the Olive Free Library on a monthly basis and discuss all things beekeeping. The meeting starts with a short seasonal appropriate presentation followed by general open discussion. It is very informal and we welcome anyone interested to participate. If you are just thinking about getting started in beekeeping, a new beekeeper, or a seasoned beekeeper, you will benefit from the group discussions.
• What: Bee Group
• Where: Olive Free Library, West Shokan
• When: 3rd Monday of the Month - 6:30PM
Regards,
Rob Overton
Lindsay Brower
Have family or friends that might be interested in beekeeping?Forward this email so they can Subscribe to our Mail List.
You have received this e-mail because you attended a beekeeping class at the Olive Library in the past or have signed up for our mailing list. If you do not wish to receive future correspondence, you may unsubscribe using the link below.