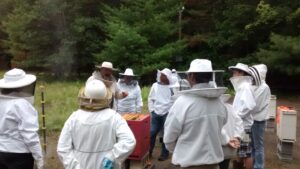 We are brining back our full day hands on beginners workshop for  2022. There is no better way to learn than in a bee yard where you can get the full experience dealing with many different hives. This will be a great opportunity to really understand all the parts and characteristics of a bee hive. We will examine frames within hives reviewing signs of health, brood patterns and stages of their development, queen, worker and drone identification, cell sizes along with their uses. We will also making splits using the OTS method, swarm traps, and much more. This course will be a great place to find answers to all of the questions you may have.
Date: June 11th, 2022
Rain date: June 18th, 2022
Fee for the course is $100 per person and the class will be limited to 12 participants. So get your registration in early….. Contact rob@bushkillventures.com to register.