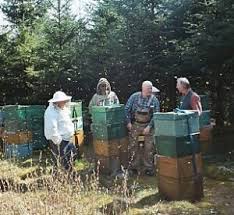 Hands-on training and mentoring in sustainable beekeeping methodologies for our local environment.  This class is ideal for first time beekeepers and 1st/2nd year novice beekeepers.  This is the perfect opportunity for new beekeepers to get hands on exposure to working with bees under the guidance of a mentor.
Students will be mentored in proper handling and protocols for inspecting hives and learn to observe critical factors in bee colony health.
This course spans one beekeeping season and will consist of  at least 1 hands-on field class per month from April thru October.
As part of this course each student will be raising their own hive from my sustainable stock and by the end of the season will take home their new hive readied for winter.
Course includes 1 new 10 frame polystyrene hive with a colony of bees that the student raises through the season from their choice of my stock.  These hives are the exact same custom hives that I use.   Consisting of q vertical entrance bottom board,  2 BeeMax brood chamber, BeeMax top cover, and  wintering system.  This is new equipment that will require student to paint in a color of their choice.  An additional hive is available for an additional cost.
Although students newly raised hive will not produce excess honey to harvest.  Student will have the opportunity to participate in my honey removal and extracting activity in the fall. They  will take home a quart of freshly harvested honey.
Class will be limited to 3 students to assure proper hands on training and one on one mentoring.  Cost of class is $1000 and  non-refundable $100 deposit is required to assure a spot.
Contact rob@bushkillventures.com for more information or to register.
[et_bloom_inline optin_id="optin_1"]